Phew... I thought not much had been getting done in the way of knitting lately but I guess my perception is a little off.
I had the INSANE pleasure of test knitting for
Lisa Mutch
recently. If you are on Rav, I will spare you because you already know her as lisa312, the lovely Canadian designer and yarn goddess. When she
allowed
me to test knit and even gave me a choice between a few patterns, I really couldn't decide... they were all equally amazing and then Slain ended up in my email box and I couldn't help myself. This is probably my favorite shawl that I have EVER knit. (if you were keeping count you would know that is between a hell of a lot.) It is made with madtosh and knit on size 7's to give a good drape. I absolutely have never loved anything I have knit before so much. (
I mean it
.) I already need another one... Anyway, she should be releasing the pattern sometime in the next few months and I highly recommend it; it is not "difficult" but has w&t's which help break the monotony of the garter. I am dying over this one. Please make sure Phillip buries me with it.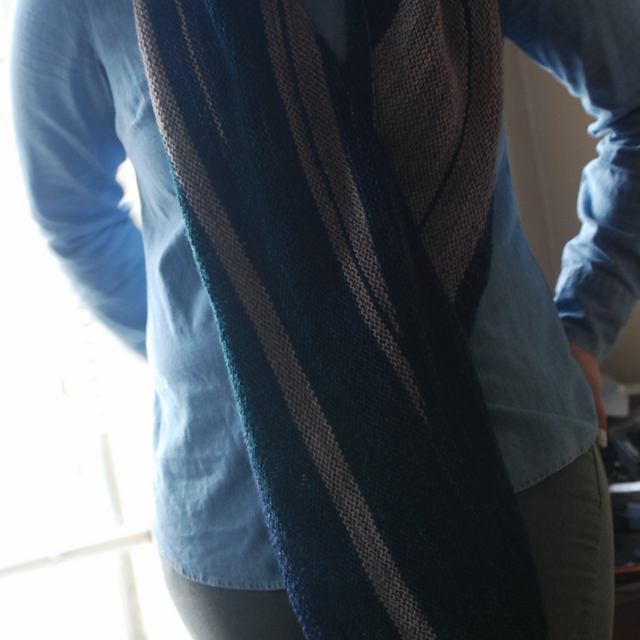 Also finished was a Stockholm Scarf (in cowl form) in the amazing handspun by
Rachel
. I really
love
the way this turned out. I have had to stop myself from wearing it every day. The yarn was amazing to work with and the cowl is large but not too bulky. (I am about to start swatching a
Pebble tank
in the beautiful red..WEEEE!)
And finally, I managed to pop out a Kathleen hat for a good ol' friend at work. This hat is a great example of why I love (some) hats. I have made it twice now but somehow it still manages to be interesting and not at all dreadful. The color was darker than I imagined (a Rav buy) but it fits his brain so I am pleased.
In other news, my yearly yardage totals are well. I am hoping to hit 15,000 yards this year (aka 8.5227273 miles, or 45000 feet, or 540000 inches). I have about 1000 yards tied up in my Featherweight Cardigan which will be done soon, if I can manage to stop hating the last sleeve which is all it needs. With a few other projects on the way, I will easily hit my goal.
And just because it feels like a milestone, I have hit over 10,000 page views on mrsmurrayknits. I will sleep easy tonight knowing that 10.000 awesome knitters, or one really creepy person has enjoyed my knitting adventures.
Happy Knitting!!!